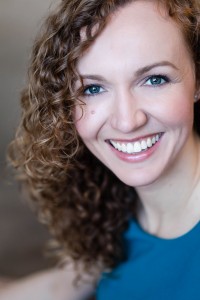 LAURA LUSSIER
(ACTRA / CAEA / UDA)
For over ten years, this bilingual artist has worked as an actor, director, producer, voice over artist, TV personality, acting coach, theatre workshop facilitator and writer.  Known for her exceptional performances, her enthusiasm, her leadership, her work ethic and her conception of dynamic and intelligent projects, Laura has established herself as a force on the local and national arts scenes.
She's acted in over 30 professional productions, as well as in her own creations.  In 2009, she discovered her passion for directing.  She has since been at the helm of a dozen projects.  In 2015, she directed the world première of Plus (+) que toi by Rébecca Déraspe as a part of Le Théâtre Cercle Molière's 90th season.  In 2016, she directed another world premiere, Danielle Séguin-Tétrault's Et que ça saute! and other projects are already in the works for coming seasons.
In 2010, she discovered the wonders of Theatre for the Very Young while participating in intensive workshops in France, Belgium and Québec.  Shortly after, she founded Théâtre p'tits bouts d'choux, a company which creates interdisciplinary theatrical presentations that aim to engage and enthrall tiny human beings from one to five years old.  Laura is also a member of the Plé Collective, a group of female artists who create theatre for young audiences.  At the moment, they are creating a trilingual play (English, French and American Sign Language) in partnership with Manitoba Theatre for Young People (MTYP) and Young People's Theatre (Toronto).
Laura dabbles in writing and translating.  She has written a few plays for Le Cercle Molière and recently, Le theatre français of the National Arts Centre approached her to be a part of a cross-Canada writing team on a new mega-project, Gabriel Dumont's Wild West Show.  The show will be touring to Ottawa (CNA), Montreal (Le Théâtre d'Aujourd'hui), Winnipeg (Le Théâtre Cercle Molière et le Festival du Voyageur), and Saskatoon (La Troupe du Jour) during the 2017-2018 season.  Laura is honoured to have been a member of a team of seasoned writers from across Canada including Jean-Marc Dalpé, David Granger, Alexis Martin, Andrea Menard, Yvette Nolan, Gilles Poulin-Denis, Paula Jean Prudat, Mansel Robinson and Kenneth Williams. 
When not at the theatre, Laura works in television.  She currently represents Western and Northern Canada on ICI Radio-Canada TV's talk show/game show called 100% local, where four representatives from across Canada try to prove their region is the best through unpredictable pitches and crazy games.  She also had the privilege of hosting over 130 episodes of Viens voir ici! (TVA), a travel and culture show that showcased the richness and diversity of French Canada outside Québec.  Laura is also co-directing her first TV Pilot with filmmaker and director, Kirby Hammond.
She still finds time to lead theatre workshops in Manitoba schools every year with Canadian Parents for French.
Laura's work is fed by a deep-seated need to share and express her love of life. As a performer, director and creator, this is what excites her most: discovering uncharted territory in the company of open-minded, talented and hardworking artists. Collaboration, love, joie de vivre and courage are at the heart of her artistic practice.
Acting: La Chasse aux étoiles (Théâtre p'tits bouts d'choux), Théâtre sans animaux, Boeing Boeing, Il était une deuxième fois, Le mariage forcé (Le Cercle Molière); Les Disparus (Théâtre Vice-Versa Theatre); Gone with the Wind, The Tempest, A Christmas Carol (Royal Manitoba Theatre Centre); Company (Dry Cold Productions); The Mirror, The Triumph of Love (Foolish Wit Inc.); Ivanov, Einstein's Gift (Winnipeg Jewish Theatre)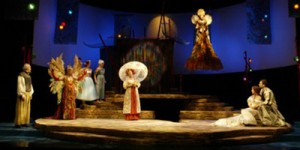 Flim & TV: Viens voir ici! (Productions Rivard/TVA); La Magna Carta (The Canadian Museum for Human Rights); Héliosols (Productions J'te Witch) Todd and the Book of Pure Evil (Space/MuchMusic/Comedy); Histoire en direct – MbTV – History in Prime Time, Cité Québec : Le berceau du bilinguisme au Canada (USB/CPF/Foolish Wit Inc.)
Directing: Et que ça saute!, Plus (+) que toi (Le Cercle Molière); La Chasse aux étoiles (Théâtre p'tits bouts d'choux); L'Hypocrite de Michael Gauthier (Le Théâtre du Grand Cercle du Cercle Molière); Théâtre dans le cimetière, Le jeu le hasard et love, Connexion en cours, Conflits à la Rivière Rouge (Les Chiens de soleil); La vie est belle au Manitoba! (Parcs Canada)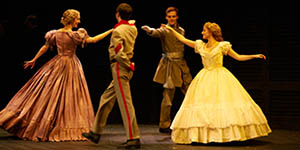 Voice over and dubbing: Kinikinik (Strongfront.TV); Better Together! (PIPSC); Know Tobacco No Disease, Portez votre casque (Government of Manitoba); Moon City – App (Frima Studios); On tourne Manitoba! (PSA for On Screen Manitoba et Manitoba Film & Music); Our Winnipeg (CUPE); Blessés. Sérieusement. (PSA for Manitoba Public Insurance); La compassion (Skyworks)